Conductive filtration media

For use in potentially explosive areas (ATEX-Zones), a special filtration media is available that is tested in accordance with DIN 54 345 (Part 1 and Part 5).
The test is carried out by EXAM (specialist department for explosion protection, mining test track), or DEKRA.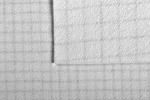 The tests have shown that the leakage resistance of our conductive filtration media is well below the maximum permissible resistance value of < 108 Ω. The conductive filtration media are certified in accordance with the ATEX Directive 94/9/EU and, therefore, provide a permanent conductive (anti-static) characteristic.
Please pay attention when using conductive filtration elements that there is a conductive connection of the filtration medium and the support cage/support frame to the ground filtration system so that, as necessary, electrostatic charges building up through the filtration media can be conducted.